Gone, but not forgotten

A little information about some of the games
that has been in my collection through the years.
In yellow = Latest update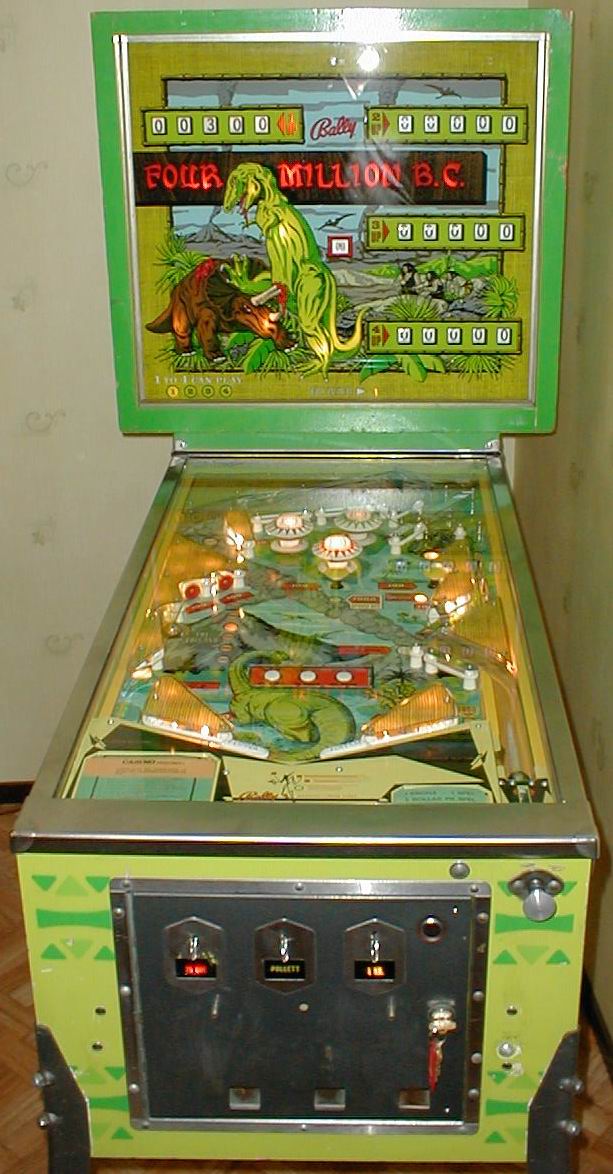 Bally "4 Million B.C." a multiball game mfg in 1971.
This particular game was in an outstanding condition.
You could hardly see that it had been in use at all.
I hesitated for a long time when I was asked to sell this game,
but now it's gone, sold to a new and very glad owner in Norway!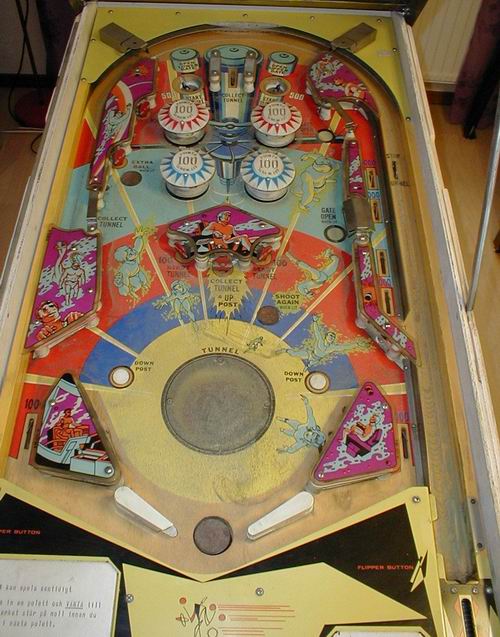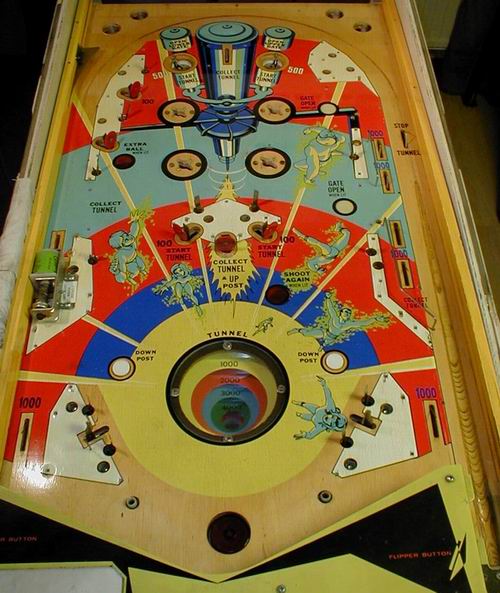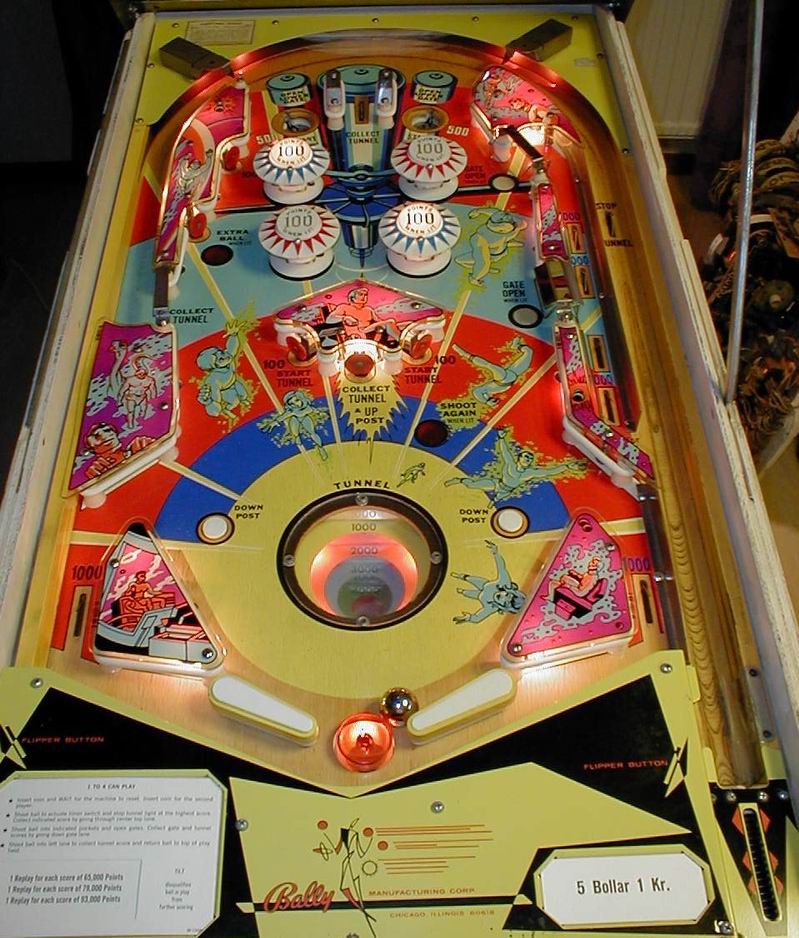 Bally "Space Time" mfg in 1972.
Here you can see how dirty a game can become when it has not been cared
for during many, many years.
It's really nice to see how beautiful a game can be when it has been properly
cleaned and new spares like rubbers, bulbs and so on has been installed.
A very nice machine to play!!!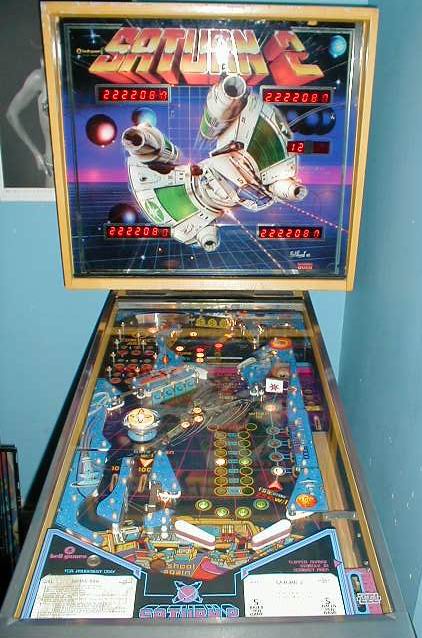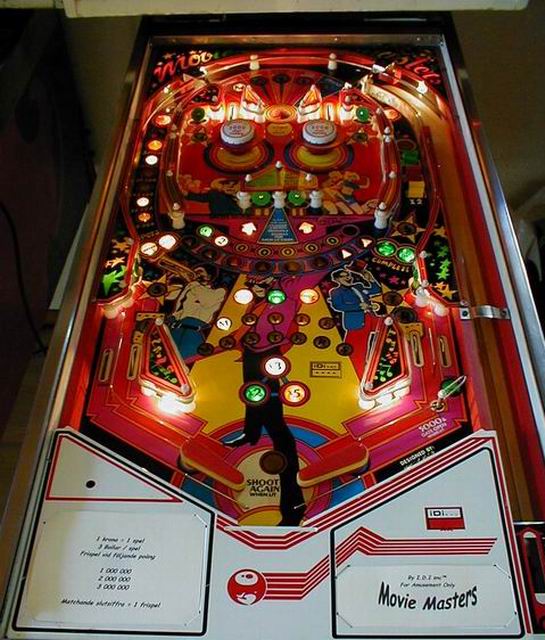 Here we have two very unusal games.
The thing is, that these two pictures shows so called conversion kits.
These particular kits are installed in used Bally bodies.
This was rather common, at least here in Sweden and a
fairly cheap alternative to buy a new game.
The left picture shows Bell Games "Saturn 2" which has the same
playfield layout as Bally's "Spy Hunter" but with a different artwork.
The right picture shows I.D.I.'s Movie Masters.
This game has the same playfield layout as Bally's "Black Pyramid"
except that it has two firm targets in the middle of the playfield
instead of a swinging target as in "Black Pyramid"
Of course the kits also has different artwork.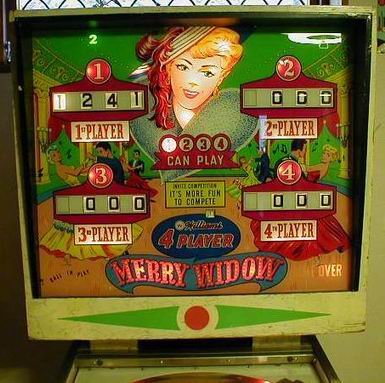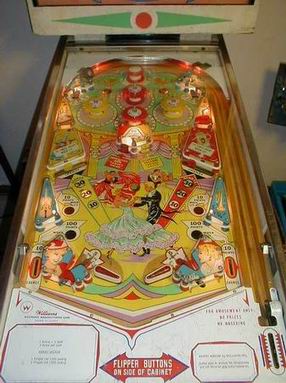 Williams "Merry Widow" mfg in 1963.
A wonderful game of it's time...
This game was really to beautiful to be sold, but when the space is
limited it has to go to make place for new projects.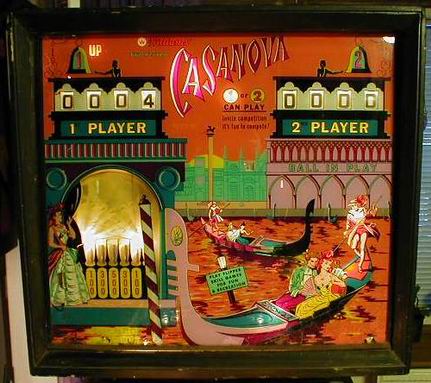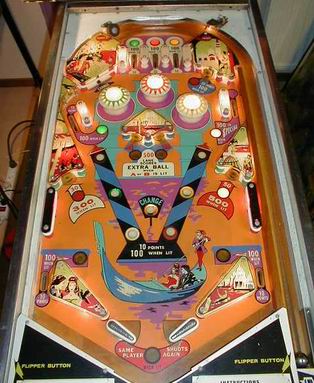 Williams "Casanova" mfg in 1966.
I love the bagatell in the lightbox, which in the end of each ball played on the
playfield pops up a tiny ball to give random score between 100 -500 points.
The playfield itself is almost a copy of Williams "Big Chief" which was released
the year before.
Gone! Sold to a local collector...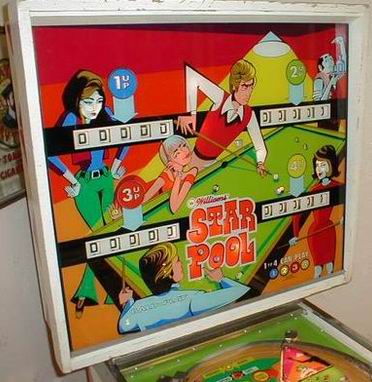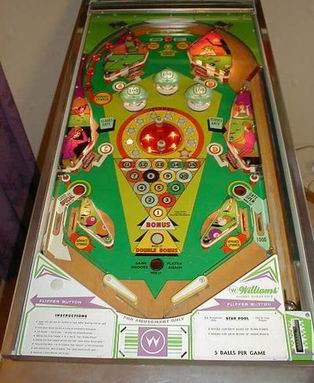 Williams "Star Pool" mfg in 1974.
This game was one of my favorites at the time.
Rather simple layout with four droptargets and a lovely loop along the
left side of the playfield that has a lot of rollovers in it.
The big horisontal spinner in the playfield not to be forgotten.
I wonder how much money I've spent playing these machines...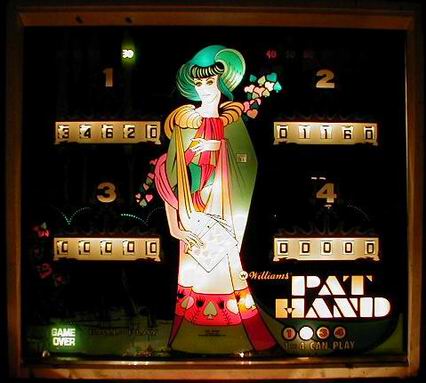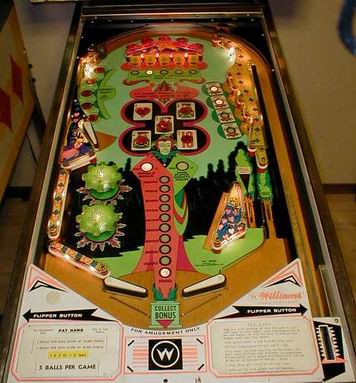 Williams "Pat Hand" mfg in 1975.
A rather dark game in the colours but still one of my favorites.
Three flippers and a wide open playfield with lot's of rollovers.
Oddly placed bumpers made that you had to be very alert.
For it's time this was a fast game...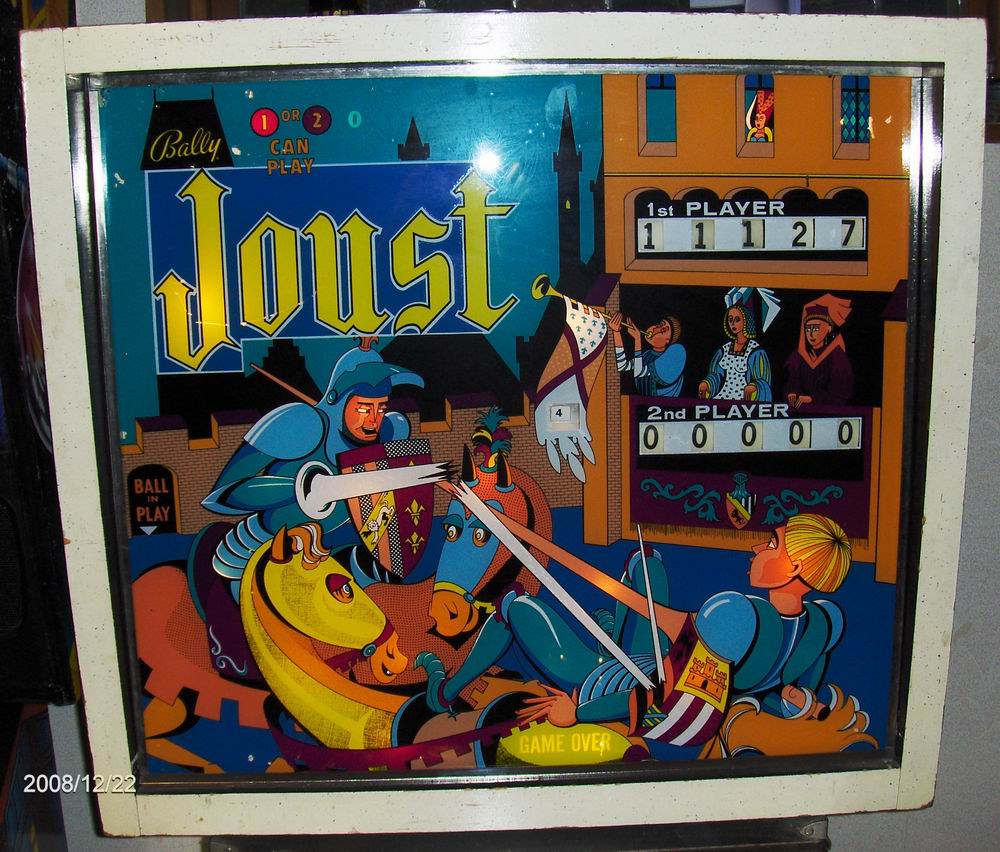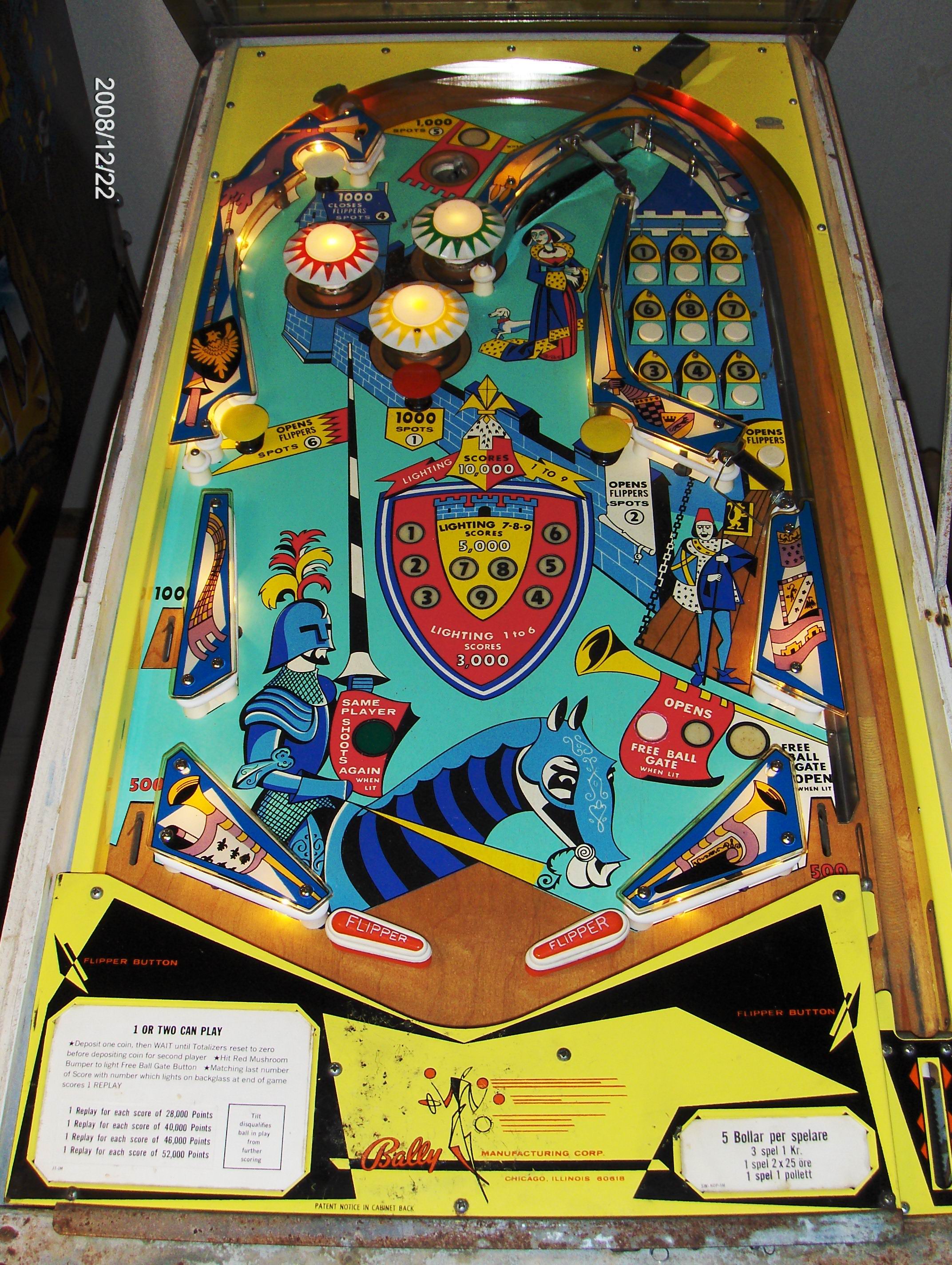 Bally "Joust" mfg in 1969.
Very nice game bright colours and nice artwork.
Note that all score reels are moving, even the last one. No fake zero's here.
Game equipped with with zipper-flippers.
This game was really too nice to sell, but with limited space it had to go...

Bell Games "Pin Ball Pool" mfg in 1983.
My favorite conversion kit!
Sexy girls on the backglass and the magnificent
playfield layout copied from Bally's Eight Ball DeLuxe.
"Stop talking and start chalking" as the attract mode.
This particular game had a cabinet from a worn out Kiss...
If I'd have it today, I'd change the cabinet and save it for a restoration.

Bally "Cross Country" mfg 1963
In my eyes, a very good looking single player pinball but not so fun to play.
Love the style of the cars and the "americana" look on the backglass.
The original backglass was restored by some "artist" when I bought the game.
It looked ok, but I wanted the bright colours back, the restored one was faded.
Bought a remake backglass from the US. Note the difference in colours.
Restored the game to playable condition, left the cabinet as is and sold it later on.